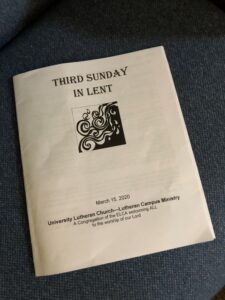 So I was in the sanctuary yesterday and came across this bulletin. Like a time capsule it reminded me that was our last Sunday together before we moved to online worship – – a mere week later.
Those were crazy, confusing days as we didn't know as much about Covid-19 as we wanted or needed. Stories captured our attention from Washington State, then New York City and New Jersey; ICU's being overrun, refrigerator trucks called in to serve as temporary morgues.
We were relatively safe through mid April, some even hoped we could be together by Easter…or Pentecost Sunday…or All Saints Sunday…or Christmas Eve?
I can't thank you enough during this time as you've adapted to online worship and checked out the daily devotions. How you have remained faithful in your financial support for UniLu's ministries, as your current situation allows. For your enthusiasm for the yard signs, or appreciation for the note cards, or your ongoing response for local food pantries and the Homecoming Habitat Build. For your willingness to prioritize Lutheran Campus Ministry's use of the Education Building.
From the beginning of the pandemic our Council said we would take both our faith and science seriously. And we still are. On Monday night we selected a Task Force to put together a concrete plan on how we can begin to safely regather for in person worship. PLEASE NOTE: We will continue to offer our worship online, not only for those who feel safer at home but also for the people we have reached across the state and around the country who tune in (a wonderful blessing of being catapulted online.)
For now, we are still worshiping exclusively online. For our All Saints Sunday service on 11/1, please contact either me or Pastor Josh with the name(s) of any loved ones you would like us to memorialize by lighting a votive candle in worship (we will already be lighting ones in memory of our siblings in Christ from UniLu who have died since last All Saints Sunday.) Please also consider lighting a candle at home as part of the service. We have extra votives in the narthex if you'd like to pick one up (and return the first time we are back together!)
God's peace & hope,
Pastor Jon