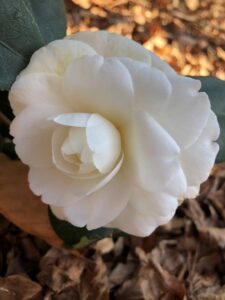 This is one of my recent plantings, a "White By the Gate" camelia. Even on the days with dreary skies and heavy news these bushes have shown forth these bursts of beauty.
Today I'll be resuming my continuing education from 2020 – the Master Gardener's Class offered through Clemson Extension. I've always loved nature and felt a responsibility for its upkeep long before I knew or understood the word "Stewardship". So whether it is in the grandest of settings like Yosemite National Park, or our own little patch of the vineyard here in Clemson, respecting and caring for nature has been important to me. This class not only helps with very practical matters, it also opens my eyes even further to the glory of God's creation.
These are tumultuous times in our country. Covid-19 continues its rampage. We continue to grieve not being able to interact as we'd like with extended family, friends and faith communities. And yet we can celebrate Mollie Barrow, Leslie Pletta Smith (and perhaps others) who have already received their second dose of the vaccine and several others who have now received their first dose. Soon those who are 70 and over will be receiving their shots. The tide is turning.
Politically, there is an impeachment vote scheduled for later today and investigations are ongoing regarding the violence at the Capitol last week. Prayers for our leaders and those tasked with serving and protecting our communities are warranted and welcomed. Prayers for "God's kingdom to come, God's will be done on earth as in heaven" should ring familiar to all of us.
As the sun is slowly burning through the morning's fog, may this too be a day that shines brighter with God's truth and brings us closer to God's justice and peace.
Pastor Jon