I have hope.
More than a little hope. More than a naïve hope. I have a deep and abiding hope, and here's why: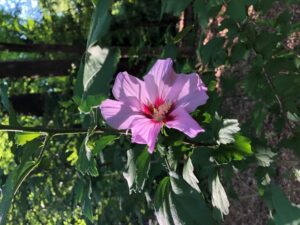 Things are changing. This is a Kairos time in our nation's history, an awakening moment. I believe, as we listen and respond to the cries for justice from our neighbors, especially our siblings in Christ in the African American community, we will continue to change. To be transformed more into the likeness of Christ. To be provoked into going deeper in love and broader in good works, to paraphrase the author of the book of Hebrews.
Yet I'm not naïve. In this world I also believe the words of Frederick Douglas spoken on August 3, 1857:
"If there is no struggle there is no progress. Those who profess to favor freedom and yet deprecate agitation are men who want crops without plowing up the ground; they want rain without thunder and lightning. They want the ocean without the awful roar of its many waters. This struggle may be a moral one, or it may be a physical one, and it may be both moral and physical, but it must be a struggle. Power concedes nothing without a demand. It never did and it never will."
We are still in the midst of multiple crises. The pandemic. The resulting skyrocketing unemployment. For persons of color, persecution past many people's breaking points. For families sheltering in living spaces that seem to shrink each day, making it through the day as safely as possible without driving each other nuts. For people living alone, a prolonged period of social isolation. For the sick, for the dying, for the grieving, for the angry, for the hopeless… It is difficult.
If you are having a difficult time, please reach out to me or Pastor Josh or one of your siblings in Christ. You need not be alone. You need not be without hope, because God gives us hope and in the words from Romans 5: "…hope does not disappoint us, because God's love has been poured into our hearts through the Holy Spirit that has been given to us." And with the gift of the Holy Spirit, God has called us.
God's call to us through the prophets and incarnated in the life, death and resurrection of Jesus is one of pursuing justice and peace. Living a life of repentance and confession and receiving God's forgiveness. Always and forever living in God's unbounded grace, mercy and love.
This morning in the garden I was met with this beautiful flower. I'm not always super attentive to each plant, but this flower seemed to appear out of nowhere. That mysterious appearance got my attention such that I left my desk and re-examined the Rose of Sharon (Hibiscus syriacus) and found other flower buds. All the flowers are on this season's new growth, but supported from years of previous growth, strength, and rootedness. There's got to be a message in that too.
God's peace, justice and hope,
Pastor Jon